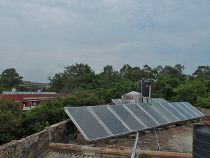 In two years solar energy for residential sector would be cheaper than electricity grid:Solar player
NEW DELHI: In the next two years, solar power will be cheaper than the electricity grid in the residential sector, says solar energy provider SunSource Energy which on Monday successfully implemented the first two phases of a 100 MW solar project in South East Asia.

Stating that while the solar energy in India has already reached 'grid parity' in commercial, industrial and utility sectors, soon this would be achieved in residential sector as well.
The solar company has designed and built over 100 solar projects across 18 states in India, with a focus on decentralised power projects. It is currently involved in nearly over 150 MW of solar projects in India and overseas.
Its rooftop projects include the India Habitat Centre.

"Aligning with Prime Minister Narendra Modi's target of 100 GW by 2022, including 40 GW from rooftop and decentralised projects, we are focused on developing, designing and building 400 MW of decentralised solar projects by 2022," said Kushagra Nandan, Co-Founder of SunSource Energy.